Power Outage?

Safety Tips and Consumer Rights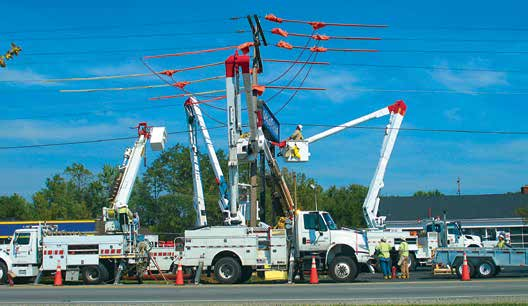 If a power outage occurred today, is your household prepared? The Office of the Ohio Consumers' Counsel (OCC), your residential utility consumer advocate, provides this information about your rights, preparedness, and tips for staying safe during a power outage.
When your electricity goes out, you should contact your electric company immediately to report the outage. Electric companies offer a variety of ways to report an outage, which include a phone call, the company's website, text message, social media, or through the company's app. In addition, some electric companies offer text alerts to keep you posted on estimated restoration of service. To learn more about these options, contact your electric utility directly.
During the outage, it is a good idea to unplug all major electronic appliances that are power sensitive, such as computers, stereos, and televisions, or have them plugged into a power strip with at least 2,000 joules of surge protection. This will protect these items from a possible power surge when the power comes back on. Leave one lamp plugged in and turned on to alert you when your service is restored. If you have outdoor solar lights that contain batteries, you may be able to bring them into the house for lighting during a power outage.
When an outage occurs in colder months, customers should close doors to any rooms not being used to prevent heat loss. In warmer months, customers should close their blinds and curtains to keep the home cool. A rechargeable, battery powered portable fan will help you stay comfortable when the air conditioning stops running.
Preparedness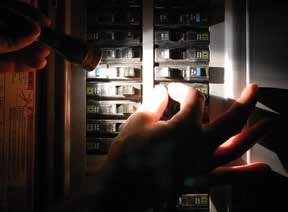 Every Ohio household should assemble a plan and a storm kit that includes a three-day supply of non-perishable food and water (one gallon per person per day), extra medications with a paper list of the medications and dosages for each family member and pet, a charged cell phone, tablet or laptop with a backup power supply, a battery-operated radio or television, a flashlight and extra batteries, and a manual can opener for food (if the kit contains canned food). You can use a charged laptop's USB port to charge most cell phones.
Solar generators are available in a variety of sizes that can power or recharge many of your devices. They can be recharged with optional portable solar panels, or plugged into a car's DC outlet. These battery systems are equipped with AC outlets, a DC carport and USB charging ports. They can keep all your gear charged, from smartphones and laptops, to CPAPs or wheelchairs, and appliances, like mini coolers, electric grills, coffee makers, and more.
Have a plan on how and when you will need to evacuate, including any pets, if the weather is very hot or very cold for an extended period of time. Go to a predetermined location with air conditioning or heat, such as your local community center. Keep a paper list of people who can help you stay at home, help you evacuate, or who you may need to check on during an extended power outage.
Remember, your garage doors, locks or home elevators may not work during a power outage. Have a plan and know how to deal with these situations beforehand.
Customers with medical needs
Electric companies take certain factors into consideration when restoring power during an outage. In most cases, electric companies give preference to individuals who rely on life support devices, such as respirators, ventilators or other medical equipment. However, there is no guarantee that these customers will receive power immediately, and they should always have a backup plan in place.
There are important steps that customers with special medical needs should take to ensure that their power is restored as quickly as possible.
Register with the electric company. Electric companies offer a program that alerts them about customers with critical needs. By law, all companies are required to maintain and update their list of critical customers annually. Customers need to send in a letter or fill out an application from their electric company stating that they rely on life support devices. The customer's doctor also must verify his or her need for immediate power. Caution: Being on this list will not guarantee that power will be restored immediately. Customers should always have a backup plan.
Consider using a backup generator and registering it. A propane, gas, or natural gas generator will provide electricity during an outage. Always rely on a professional technician to set it up. Properly installing a generator will protect it from damage and prevent a back flow of electrical current into the utility lines that may injure service professionals. Never use a generator inside the home or in an attached garage because carbon monoxide build up can be life-threatening. Customers should notify their electric company that they have a generator.
Electrical outage myths
When the lights go out there are many things to think about, like reporting the outage and locating necessities such as flashlights, batteries, a radio, and other supplies. Below, the OCC clarifies some common myths about power outages in the home to help consumers be better prepared.
MYTH: The electric company is required to pay for or replace any food that spoils as a result of a power outage.
FACT: There is no requirement that the company compensate customers for any food lost due to an outage. To keep food safe, consumers without refrigeration should:
Keep refrigerator and freezer doors closed to conserve cold air. Keep a thermometer in the fridge, freezer or cooler to monitor the food temperature.
Place perishable foods in a cooler packed with ice or reusable ice packs.
Use foods first that may spoil, such as dairy products and meat. Once these foods are no longer cold to the touch, have been warmer than 40°F, or when in doubt throw it out!
MYTH: Utilities must issue credits for the time that service is out.
FACT: Generally, utility customers are not entitled to credits for the time that their service is out.
MYTH: During an electric outage, homes with older adults and young children are given priority when restoring power.
FACT: Typically, electric companies do not establish a priority for restoration efforts based on the age of those in the home. (See previous information on household members with special medical needs).
---
To download: Click the folder with a down arrow icon. To print: Click the printer icon in the top right of the display.
If you need multiple copies for an organization or group, please contact a member of our outreach team.