Frequently Asked Questions: Smart Grid
Smart Grid Technology
Nationally, electric utilities are modernizing the electric grid with digital technology to improve its reliability and efficiency through two-way communication between the utility and the customer. This is referred to as the Smart Grid.
The Smart Grid has many capabilities that the traditional grid does not. Power outage duration can be reduced with automatic grid reporting that identifies the outage location. Then its "self-healing" capacity allows for the network to be restored automatically. Electric utilities can redirect electricity on the grid during periods of high demand to reduce potential brownouts and blackouts. Wasted electricity on distribution and transmission lines can also be reduced, allowing for more generated electricity to make its way to consumers' homes.
The Smart Grid allows for the use of a smart meter. These meters allow consumers to receive accurate billing by eliminating estimated readings. Meter readings through a smart meter are conducted through a broadband connection that eliminates the need to estimate a bill.
Real-time usage can be monitored through smart phone apps or on the internet. Consumers can use that information to manage their use to reduce consumption.
It also allows for alternative rate plans outside of paying a standard flat rate, such as:
Time-of-use - Electricity prices under a time-of-use model are set at predefined rates during different times of the day. The cheapest prices are available when electricity is used the least (off-peak) and most expensive when many customers are using electricity at the same time (average or on-peak).
Peak Demand Rebates - Customers that voluntarily enroll in a peak time rebate program have a standard flat rate but receive rebates for using less electricity when a utility calls for a peak time event. When an event is called, these customers can reduce their usage and receive a utility incentive. Customers will not see their rates increase for maintaining their normal usage pattern should a utility call for a peak time event.
Smart Meter FAQ
A major part of the Smart Grid impacting consumers are smart meters. In Ohio, major electric utilities have deployed, or are in the process of deploying, smart meters to their customers. The Office of the Ohio Consumers' Counsel (OCC) provides answers to frequently asked questions about smart meters.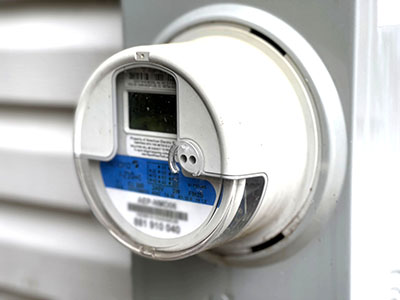 Q: What is a smart meter?
A: A smart meter, also known as "advanced metering infrastructure" or AMI meter, is a digital meter. It provides a two-way communication through a broadband connection that can be read and connected and disconnected remotely. It can also provide real time usage information to the utility and the consumer.
Q: What makes a smart meter different from other meters?
A: A smart meter provides two-way communication between the utility and the customer. Whereas a traditional analog meter has to be read in-person by a utility representative. A digital meter communicates to the utility on a monthly basis through a radio signal obtained by a utility vehicle driving down the street.
Q: Why are electric utilities replacing traditional meters with smart meters?
A: Utilities and customers can better monitor electricity usage. When a customer has a smart meter, the utility no longer needs to conduct monthly in-person meter readings, eliminating the estimated bill. Also, a smart meter will notify the electric utility of a power outage as soon as it occurs without being reported by the customer.
Q: Can I keep my current meter?
A: Consumers have the option to opt-out of having a smart meter prior to it being installed. However, the utility will charge the consumer to have a non-smart meter. These charges can include a one-time fee, along with a monthly service charge on the electric bill. Consumers should ask about and consider all costs associated with opting out.
Q: Are there privacy concerns?
A: With any technology, there are always privacy concerns. The Smart Grid enables collection and sharing of consumers' electric consumption and billing data. Each utility has guidelines for Smart Grid security, contact the electric utility for more information.
Q: What if I think my smart meter is inaccurate?
A: Smart meter accuracy standards are developed by the American National Standards Institute through meter testing. If you believe your meter is inaccurate, consumers may request a meter test from the electric utility.
Q: How do smart meters impact service disconnection for non-payment?
A: A smart meter allows an electric utility to disconnect service remotely, instead of sending out a technician to disconnect the service. However, service can also be reconnected in a shorter amount time since it can be done remotely.
Electric Utility Progress
More information each electric utilities' Smart Grid plan can be found at the following websites:
AEP Ohio: www.aepohio.com/community/projects/smart-grid/ 
AES Ohio:  https://www.aes-ohio.com/aes-ohio-smart-grid
Duke Ohio: www.duke-energy.com/Our-Company/About-Us/Smart-Grid
FirstEnergy: www.firstenergycorp.com/help/smart-meters/oh-smartmeter.html
---
To download: Click the folder with a down arrow icon. To print: Click the printer icon in the top right of the display.
If you need multiple copies for an organization or group, please contact a member of our outreach team.