CenterPoint Energy's Energy Efficiency Programs
CenterPoint Energy (formerly Vectren Energy Delivery of Ohio) offers several energy efficiency programs for its residential customers. Taking steps to improve energy efficiency is a smart investment. CenterPoint Energy's programs could save you money on your natural gas bills.
Heating Rebates
If you use natural gas as your primary heating source, you may be eligible for a rebate to replace your gas furnace or gas boiler. The size of the rebate depends on the device's annual fuel utilization efficiency and date of purchase. For equipment purchased after January 1, 2021, rebates range from $150-$500.
Insulation and Home Sealing Rebates
If you use natural gas as your primary heating source, you may be eligible for a rebate to upgrade your home's insulation and sealing. Rebates vary depending on the service. The maximum rebate for air sealing is $250, for attic insulation $600, and for wall insulation $700.
Thermostat Rebates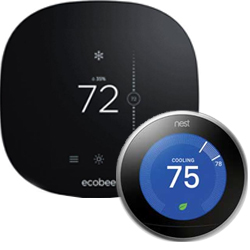 By investing in a Wi-Fi enabled thermostat, you can lower your energy costs and receive a rebate. CenterPoint Energy has specific requirements listed on their website.  For smart thermostats purchased and installed after Jan. 1, 2021, a Smart Wi-fi enabled thermostat qualifies for a $50 rebate, while a Basic Wi-Fi enabled thermostat qualifies for a $30 rebate.
Online audit
CenterPoint Energy offers an online home energy audit tool. The audit uses information from your bill and makes recommendations for improving your energy efficiency. You must have a CenterPoint Energy online account to use this program.
Complete information about these programs is available online at www.centerpointenergy.com or via telephone at 1-800-227-1376. Energy efficiency programs are subject to change. For the latest availability information and eligibility requirements, contact CenterPoint Energy.
 
---
To download: Click the folder with a down arrow icon. To print: Click the printer icon in the top right of the display.
If you need multiple copies for an organization or group, please contact a member of our outreach team.