You are here
Bruce Weston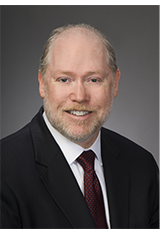 Bruce Weston has served Ohioans as the Consumers' Counsel (Agency director), by appointment of the Consumers' Counsel Governing Board, since March 2012. Previously, Mr. Weston served as the Deputy Consumers' Counsel and directed the Agency's Legal Department.
Mr. Weston brings 35 years of experience in public utilities law to the Agency and its services to Ohio residential consumers. He is committed to protecting consumers' interests. His priorities include reasonable rates, competitive markets and reliable service for Ohioans.
Prior to joining the Agency for a second time in October 2004, Mr. Weston was in private law practice. He served as legal counsel for clients in cases involving utility rates, service quality, industry restructuring and competition.
Mr. Weston received his bachelor's degree in business administration from the University of Cincinnati. He began his career at the Agency in 1978 as a legal intern. After earning his law degree from The Ohio State University College of Law, he began a 12-year tenure as an attorney for the Agency. Mr. Weston served as the chair of the Public Utilities Law Committee of the Ohio State Bar Association for two years ending in June 2012.
---
High-Resolution Photographs
Click on the image descriptions to download them to your hard drive.
JPG image
TIFF image